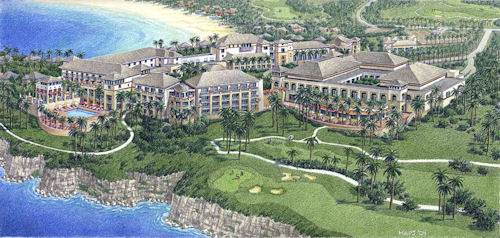 Altagracia Province, Dominican Republic
Set along 3.2 miles of pearl-white beaches on the eastern shore of the Dominican Republic is Roco Ki. This immense, master-planned development will span 2,700 acres and will take over a decade to complete.
Almost its own city, Roco Ki will ultimately encompass seven luxury hotels, over 5,000 residences, a yacht marina, four golf courses, tennis courts, fine-dining restaurants, full-service spa and many other five-star quality amenities.
The peaks and valleys of the tropical terrain in Altagracia Province, Dominican Republic, make for a variety of breathtaking locations.
Phase I of Roco Ki will develop the first 700 acres and is being described as the most dramatic part of the project.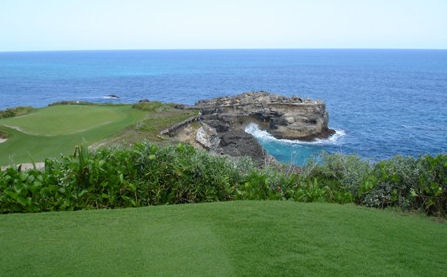 Roco Ki will include four golf courses including a Nick Faldo Legacy course.
Crowned by a Nick Faldo Legacy Golf Course, the headlands of Roco Ki will be home to five Westin residential offerings that all come together against a backdrop of cliffs, beaches and lush tropical landscaping.
The residential opportunities currently being offered in Phase I include:
Westin Cliffside Villas
Westin Cacique Terrace Towers
Westin Cacique Terrace Villas
Westin Jungle Luxe Bungalows
Westin Cliffside Condominiums (condo hotel units)
The Westin brand is synonymous with style and world-class hospitality. Each type of residence will be a marriage of the island's traditional architecture and state-

of-the-art conveniences. Choose from a wide variety of elegant home styles, floor plans, sizes and prices.
There are only a handful of other Caribbean destinations that provide a lifestyle as rich and a landscape as lush as the Dominican Republic. The island has a colorful history and a vibrant culture, a legacy of the Taino people who once called the island home. Those influences will be reflected in Roco Ki's design.
Westin Residences in Roco Ki range from 1,106 to over 10,000 square feet in size. Prices start at $450,000. Construction is currently underway and progressing rapidly.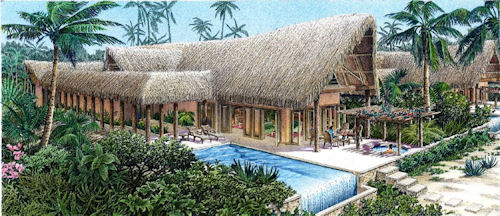 Owners of Westin Residences will have access to all the amenities of the Westin Resort at Roco Ki.
The Westin Resort and the Westin-branded residences are expected to open in late 2010. The master plan for Roco Ki will take approximately 15 years to complete.
The Roco Ki community is so large and encompasses so much that it can't all be explained here. We have therefore prepared an extensive 20-page report that provides all details including the types of residences available, prices, developer background, site plan, photos and much more. To receive this report, please provide your full name, address and phone number. Your information will not be sold or misused in any way.

If you are interested in learning more about Roco Ki, feel free to ask us questions.  We encourage you to also request our FREE 20-page report on this property. We will respond within 24 hours (usually much sooner). Contact Maria Lopez at info@DominicanRepublicVacationHomes.com or call (305) 944-3090.